Radio 3 Highlights
Today's Focus
On
Money For Nothing
, we'll discuss more about the market with CIBC's Patrick Bennett. SC Lowy's Michel Lowy will talk to us about the China slowdown and high-yield bonds. Our last guest is CFA Institute's Paul Smith on regulations. Peter Churchouse of The Churchouse Letter is back in the chair as guest host.
(8am-8.30am,
or email moneyfornothing@rthk.hk )
On
Backchat
we talk about the electricity market. A consultation is underway on how best supply electricity in the SAR in the future, and debate has covered trhe possibility of introducing new players besides the existing duopoly, and the possibility of including more renewable sources. The Consumer Council says we'd be better off with more competition. The power companies disagree. What about you? After 9.20, free kindergarten education.
(8:30-9:30am, Call in 233 88 266 ,
, email backchat@rthk.hk or text 6393 5925.)

Tales From the Penthouse
This Sunday morning at 8.30, join Singer and Bandleader Pete Moore for the first in a six part series, "
Tales From the Penthouse
". A little expose on some of the great male vocalists of the 20th century. Pete features stories about, and recordings by the owners of six of the most iconic voices to ever have have hit the stage and the recording studio. We begin this week with
The Chairman of the Board...Frank Sinatra
.
(Sunday, 31.5.2015)
The Producer is Phil Whelan.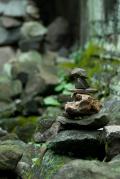 Mindfulness: Panacea or Fad
In little more than a few decades mindfulness has gone from being a specialist element of Buddhist teaching to the front cover of Time magazine. It's the must have app for the stars, courses in it are advertised in the back of all the glossies, businesses use it to reduce staff stress and boost productivity. It's even prescribed by Britain's public health service for anxiety and depression. This is the story of "
mindfulness
" - from its roots in the Buddhist practice of meditation to today's multi-billion dollar, worldwide industry. Devoted followers hail it as a cure-all for the ills of modern life. Or is this just another health fad, destined for disparagement, like homeopathy? And what do Buddhists feel about their heritage being westernised, secularised and commercialised? The BBC's Emma Barnett looks for answers in "
Mindfulness: Panacea or Fad
?"
(Saturday, 30.5.2015)