Backchat
Presenters: Hugh Chiverton and Ada Wong
香港電台網站只提供過往12個月的節目重溫。
rthk.hk provides archive service for programmes in the past 12 months only.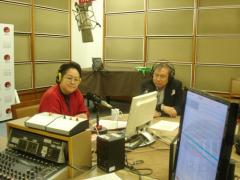 Looking back at 2010, how would you rate Donald Tsang?/ Asia's Grammys in HK??
On today's
Backchat
we'll be looking back at the year 2010 and reviewing the work of Donald Tsang. After his visit to Beijing and meeting with President Hu Jintao, he received a positive assessment from the leader. What's yours? After 9.15, Asia's Grammys in Hong Kong!!
8:30- 9:15 Looking back at 2010, how would you rate Donald Tsang?

Joseph Cheng, Professor, Department of Public and Social Administration, City University

Peter Wong, NPC Delegate

Emily Lau, Democratic Party Legislator

Priscilla Leung, Legislator


---
9:15 - 9:30 Asia's Grammys in HK??

Ricky Fung, CEO, International Federation Of The Phonographic Industry (HK Group)


---