Money for Nothing
Presenter: Bryan Curtis
Listen
1Standalone Player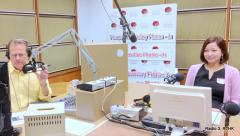 US economy / The Wimbledon Master Plan / The second hand jewelry market
Why does the US economy appear to be a mixed bag? On
Money For Nothing
we'll ask Bart Van Ark, an economist with The Conference Board. Then we talk with AFP sports editor, Daniel Hicks, about the 'Wimbledon Master Plan.' Finally we talk with Rosemary Leung of Circa about value in the second hand jewelry market.
(8am-8.30am,
moneyfornothing@rthk.hk
)
8.03 am - News highlight of the day

* ECB has cut its main interest rate by 25 basis points

* Stocks rose 1%, lifted by a big drop in jobless claims and the ECB rate cut

"It's a lot of mixed economic news," said Bart Van Ark, an economist with The Conference Board. "Consumers have a better outlook on the job market, on income and on business conditions. Yet manufacturing activity was not great, savings rates have declined and the March jobs report was terrible. The US economy is still hovering around a growth rate of 1 - 1.5 %."


---
8.18 am - The Wimbledon Master Plan

The European tennis season is in full swing of the build-up to the French Open later this month. Then the Wimbledon Championships follow hard on its heels.

The All-England Club is powering ahead. Recently it announced a "Wimbledon Master Plan." This includes a second retractable roof on Court No 1 before 2019 and a 40% increase in prize money this season. On the other hand, the French and US Open tournaments have been beset by political, financial and logistical problems.

"With its Master Plan, Wimbledon will have 26,000 - 27,000 people watching under one roof," said Daniel Hicks, AFP Sports Editor.

The US and France however are subject to uncovered courts. In the last few years, the US Open men's final has actually finished on a Monday (thanks to bad weather during hurricane season). "Now the men's finals will be scheduled to finish on a Monday," said Daniel. "The players, sponsors, spectators and TV companies can't be happy with this situation because if anyone is going to watch tennis, they expect to do it on a weekend."


---
8.25 am - The second hand jewelry market

Have you inherited jewelry that you've never worn or do you have an old piece of jewelry that is no longer fashionable? Do you wish that you could trade it in for something better, or just different? CIRCA, an international buyer of second hand jewelry, diamonds and watches might be able to help. "Selling jewelry is no longer a stigma," said Rosemary Leung, Director at Circa Hong Kong. "Previously it was tied to death or divorce but this is no longer the case. In the US it's quite common to sell jewelry that you don't want any more but in Hong Kong it tends to sit in safe deposit boxes. That's not going to make you any money."

If you are interested in selling your old jewelry you might want to visit Circa: www.circajewels.com


---